So you want to Elope in Iceland? But where do you go? Iceland is probably one of the most beautiful places we've ever visited (so far) and even though it's a smaller country there are SO MANY places to go visit, see, elope, etc. So here is our list of the top 10 places we would recommend going for your elopement. Feel free to go to multiple! Iceland is pretty easily accessible and you can generally get to multiple locations in one day to get a few difference sceneries!
When we visited, we went in May so there were some locations that we were unable to visit, but will still be including some places we did not visit because they are so epic!
Here is a map of the places we recommend visiting as well as every place on this list is on this map so you can view its location.
1. The Highlands
The Highlands is a pretty generalized area because it realistically takes up a majority of the "center" of Iceland. There are many spots to choose from within this section but this is a good place to start looking if you visit during a time of year that most of it is open. During the cold/winter months parts of the Highlands are closed to the public access roads and are only accessible with snowmobile. Other times of the year, you can access most of it via a 4×4 vehicle or a tour.
There are a lot of places to pick from in this area and we will be making a whole guide in this area after we visit so you can have first hand info on the locations!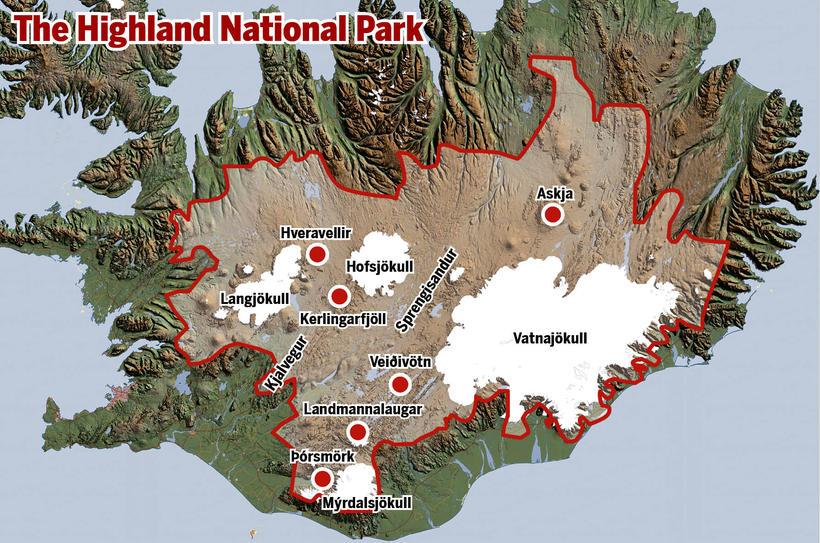 As you can see in the map above, the "Highland" are is absolutely massive and also includes some other areas we will be going over on this list.
2. Fagradalsfjall Volcano & Valahnukamol
We put these two locations into one since they are pretty close to one another. The volcano is an absolute gem to visit but it does take a little bit of a hike to get to it. You can oftentimes find it erupting and I would recommend visiting while it is doing so. Otherwise, just visiting the shoreline Valahnukamol with the lighthouse is a great choice. This is also really close to the main city of Reykjavik in which you would be landing in when flying to Iceland.
The Volcano is a pretty long hike if you are trying to elope near it and if it is erupting I would recommend bringing some sort of gas mask to avoid any fumes coming from the volcano once you get close.
Valahnukamol is a very beautiful area with a lighthouse and rocky shoreline to make for some really cool locations and photos here.
On top of all of the beautiful locations near this area you are also right by both the Sky Lagoon and Blue Lagoon for a nice and relaxing spa experience after your elopement. Couldn't be a better way to end your elopement than a nice spa!
3. Skogafoss Waterfall
This is probably the waterfall you've seen in most pictures when you search for Iceland or Iceland waterfall. This is one of the most popular ones out there but when we went, it was not very busy. You can also explore and go up a TON of stairs to get to the top and do more up there if the bottom is too busy so this is a very versatile places to visit. Just remember, waterfalls are SUPER loud so you probably wont be able to hear anything or get audio of vows if you are near a waterfall. This could also be a great place to take some pictures and not do your vows or do the actual "ceremony" portion of your elopement.
The photo below is from the top of the waterfall with quite a lot of space to do things that may be needed and is still quite loud.
4. Black Sand Beach + Plane Wreck
This is a two in one location since they are not quite next to each other but one is on the way to the other.
The infamous plane wreck that is located on a portion of the black sand beach is a really cool spot to check out and go to but it will require a small hike to get there, its all on sand though so its not hard to get to. Just a lot of walking on open space. Please follow the trail that has been made to get to it to preserve the land.
If you prefer to not have to walk far, you can drive just a little further to the black sand beach parking lot which is a quick 5 second walk from the parking lot to the beach which has a really cool cave, awesome backdrops, and much more. This is an absolute must visit if you are in Iceland and a great place to elope if you wanted some space with multiple locations in one.
5. Ice Caves
Throughout the colder parts of the year, you can visit ice caves within Iceland that are a really cool and fun experience. Usually you will have to get some sort of tour to get through and to them but it' well worth the experience to head out and visit these.
This is also a really epic place to have some part of your elopement or just to get photos. You may have to coordinate with tour companies to do this.
6. Fjaðrárgljúfur & Múlagljúfur Canyon
These two canyons near the south east side of the country, not too far from the main Capitol city. This part of your elopement may require a small hike or walking due to its very large size and how spacious it is.
I will say this location is much better, less dense as far as people being around and has much more exclusivity. This is a great place for an adventure if you are up for it!
7. Stokksnes 
This is an absolute must see spot regardless if you elope here or not. There are wild horses, mountains all around, a huge cliff side, and much more.
This area has so much to pick from from different views, landscapes, etc. You can come here and take your pick as to what you want to do. It is more of an open area but with lots to pick from.
8. Hengifoss Waterfall
This is a really beautiful waterfall with a lot to pick from since the waterfall is a little ways back from the last spot you are able to go. The loudness will not be too much compared to a few other spots with waterfalls.
You may also have a little more privacy depend on the top of year you go and time of day. It does require a small hike/walk to get to the actual waterfall but its well worth it just like any other place in Iceland.
9. Stuðlagil Canyon
This spot is definitely overhyped online with a lot of people oversaturating and changing colors to make it look way different than it does in person but this is still a very cool place to visit as its like nothing you've ever seen before.
This does take quite a drive to get there on some back roads and can be harder to find the actual spot to park plus a decent hike from the parking lot to the location.
Once you are down at the bottom, you can see some really cool spots to say some vows, take some pictures, and more. You can climb in certain spots that are really cool and I've even seen people go in the water! I am not sure if this is allowed so please check online for this info.
10. Gljufrabui waterfall
This one goes last on the list because it absolutely deserves a spot in the running, it's just quite a small area to do much in other than take some photos. As you can imagine its also extremely loud as you are right next to a waterfall.
Theres another waterfall/public area near this waterfall so you can go and enjoy some time in that area and take some photos, then head over to this waterfall which takes a little bit of walking on water covered rocks. Totally worth seeing this, its absolutely epic.
This is a very popular spot since its not far from the main city so make sure you pick a time where it may be less busy. There was a line when we were there for people to take photos on the rock pictured above.
Summary
One simply cannot choose a single spot in Iceland to elope or take photos, etc which is why we gave you 10 but there are SO MANY more spots you could pick from that I do not have listed. If you take a look at our google my maps in the beginning of the post, you can take a look at many more spots that we visited or wanted to visit that could be super cool!
On top of that, there are more spots on top of that! If you need a photographer or videographer or just have general questions about eloping in Iceland feel free to hit that "hire us" button above and we can answer some questions for you.
Thanks!